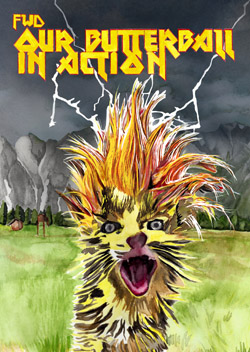 Fwd: Our Butterball in Action
by Aino Korvensyrjä & Daniel Seiple

A collaboration between Korvensyrjä and Seiple is triggered by a series of seemingly unrelated but concurrent, local events occurring in the states of Pennsylvania, USA and Salzburg, Austria. Encounters with a few men named Wolfgang Eisl living in the Salzburg region, prompt a casual investigation that uncovers a family scandal and implicates cute cat photos with the dark phenomena in heavy metal, economy and financialized politics on a global scale...

With an essay and interviews by
Aino Korvensyrjä, Prof. Dr. Joseph Vogl, Daniel Seiple and Reverend Donald Seiple
Woodcarvings by Wolfgang Eisl
40 pages, color photos, English and German language
6.66 €

This publication was assembled as part of the exhibition,
Occupied. ORTung 2012, at the Salzburger Kunstverein Austria, 2013.