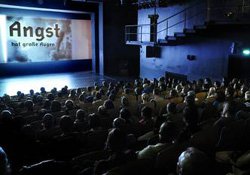 Angst Hat Grosse Augen
2010 Werkleitz Festival in cooperation with KUNSTrePUBLIK, Halle, Germany
May - October 2011

ANGST IN FORM: ART IN PUBLIC SPACE
Public space plays a particular role in people's fears. They are unprotected and vulnerable to accidents, criminality, political demonstrations, terrorism and state violence and surveillance. Here, the impact of fear is to be addressed, mobilized and staged as a means to deconstruct mechanisms for generating fear. Secondly, fear as a sympton is to be investigated vis-à-vis its causes in order to develop an understanding of its correlations in public space.